'Ninja' Dating Sites*
Aside from Ninja Passions (the site you are on now), there doesn't appear to be any other niche dating sites focused explicitly on connecting singles around the shared interest in Ninjas or in being a Ninja. Who would have guessed that Passions Network would be the only niche online dating network with a site focused on connecting Ninja loving singles? We will keep our eyes open for other dating and social networks for Ninja fans, but in the meantime, we have included a number of Asian dating site options below. While they are not specific to Ninjas, if you are looking to connect with others who appreciate Asian culture, then these are the best we can do for now. Otherwise, just continue to enjoy Ninja Passions for free. Have fun!
AD

Asian Dating Connexion
Meet Asian Singles! Find Love Tonight!
If you are Asian and looking for other single Asians, or you are not Asian, but you are attracted to Asian culture and Asian singles, then Asian Dating Connexion could be perfect for you.

Asian Matching
"The #1 Asian Matching Community On The Net"
Asian Matching is a dating site for singles who are looking to meet other Asian singles. Join today and begin searching through thousands of Asian singles interested in online dating.

Meeting Asians
Meet Your Asian Match Tonight!
Meeting Asians in an online dating site for Asian singles who are looking to meet others in their local area, if possible. The first step is to join and begin browsing to see if someone special might be closer than you think. Whether you are searching for love, marriage, friendship, or casual fun, Meeting Asians has Asian singles available to chat with today.

Wealthy Asian Singles
Date Wealthy Asians Today!
There are online dating sites for every unique niche imaginable, as evidenced by the large number of varied Asian dating sites listed on this page. Wealthy Asian Singles is a unique site among the large number of Asian dating sites in that it is focused exclusively on Asian singles who have been fortunate enough in life to find themselves able to identify as 'wealthy'. If you are a 'wealthy' Asian single interested in dating online or you are interested in dating wealthy Asian singles, then clearly this is the site for you!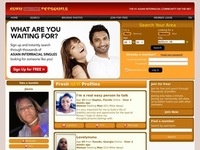 Asian Interracial Personals
Start searching 1000's of Asian Interracial Singles
Asian, but interested in dating singles of other ethnicities? Not Asian, but seriously attracted to Asian singles? In either case, Asian Interracial Personals is designed to connect members just like you. Join today!
AD

Asian Interracial Date
Asian Interracial Dating Near You!
While many dating sites end up helping to initiate interracial relationships based on members of different ethnicities 'hitting it off online', Asian Interracial Date is a little different. This site is meant to help connect Asian singles who prefer dating non-Asian singles and of course, it is designed to help connect those members connect with the Asian singles they are interested in dating. The first step is to join and after that, it is really up to each member, so join today and get the ball rolling!

Asian Dating
Meet Asian Singles
Asian Dating Is One Of The Leading Asian Dating Sites With Over 4.5 Million Members. As one of the first and largest Asian online dating sites, you can find Asian Women, Asian Men, Thai Women, Vietnamese Women, Japanese Women, Chinese Women, Filipinas and more. Join today to meet other single Asians interested in dating!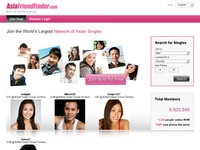 Asia Friendfinder
Dating Site For Asian Singles
Asia Friendfinder is one of the largest online Asian dating & social networking sites for single Asian women and single Asian men. As one of the first Asian dating sites specifically for Asians, it brings like-minded Asian singles together for Asian dating in an environment of comfort, where members can be themselves. Meet local Asian singles or use the site to build your social network with other Asian singles from China, Taiwan, Japan, Hong Kong, Korea, India, Thailand, as well as Europe (UK), the United States (US) and Canada.

Asian Chat City
Chat With Asian Women And Asian Men!
Asian Chat City is filled with single Asians looking to chat in a wide variety of Asian chatrooms. If you are single and interested in meeting other Asian singles, what better way that to strike up a chat online? Join today!

Asian American Dating VIP
Mingle With Asian American Singles
If you are interested in dating Asian American singles, join and browse members of Chinese, Indian, Japanese, Malaysian, Vietnamese, or Korean American descent. Basically, if you are Asian American or attracted to Asian Americans, this could be the site you have been looking for!
AD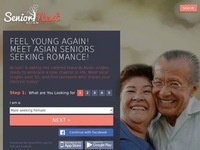 Asian Senior Next
Meet Asian Seniors Seeking Romance!
Asian Senior Next is a dating site catered towards Asian singles ready to embrace a new chapter in life. If you are Asian and you are interested in meeting local Asian singles over 50 who share your lifestyle, this site is worth a look!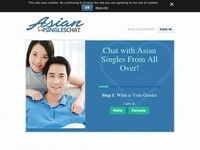 Asian Singles Chat
"Chat with Asian Singles From All Over!"
Whether you are Asian or not, if you are looking for Asian singles to chat with, you have found the right site. If you just want to chat, feel free to find other from around the world, or if you are looking to meet, then you can focus on Asian singles in your local area. The best way to start the process of finding out if there might be any chemistry is to start chatting with someone, and this is a great place to do that.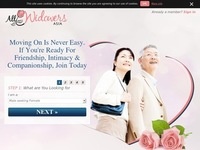 All Widowers: Asia
Meet Asian Widowers
Only someone who has lost someone after truly loving them can really understand the emptiness it can cause. Many people are not able to move on after the loss of a loved one, but everyone handles loss differently. All Widowers - Asia is for Asian members who have been lucky enough to have found love at least once in their life and who are now ready to try and open their hearts to love again. If any of this speaks to you, then join to see if this site helps you move forward into the next chapter of your life.

Asian Single Professionals
"Meet Your Ideal Partner at Asian Single Professionals!"
If you are Asian and focused on your career with an interest in like-minded Asian singles who appreciate a strong work ethic, this could be the site for you. Take advantage of the site's search system to find other Asian singles based on specific professions, like IT Consulting, Mobile App Development, Programming, Web Development, Digital Design, Broker, Consulting, Business Services, Financial Services, Education, Design & Art, Show Business, Fashion Design, Multimedia, Photography, Modeling and more!

Chubby Asian Dating
Find Curvy Asian Singles
If you are Asian and you don't buy into society's stereotype of the perfect body being size zero or size one, then this site might be for you. Real people who enjoy food and life and love fill this site and they are not going to judge other members for having a chubby belly or love handles. In fact, those attributes are likely going to be common on members here, so join today and meet your loving chubby Asian soul mate!
AD

Asian Introductions
Meet Single Asians at Asian Introductions
If you have a preference for dating Asian singles, you can join just about any large dating site and you will find many Asian members, but you increase your odds when you join a dating site focused exclusively on connecting Asian Singles. Asian Introductions is designed specifically to help members meet Asian singles!

Asian American Personals
Meet Local Asian American Singles
If you are an Asia American with a family heritage of Chinese, Japanese, Thai, Vietnamese, Korean, or any other Asian ethnicity AND you are interested in dating other Asian Americans, this is the site for you! Find a site filled with like-minded single Asian Americans looking for romance, dating, love and more!
AD
*Sites listed on this page are a combination of ads, affiliate related Sites and general non-partnership related sites that match the theme of Ninja Passions.